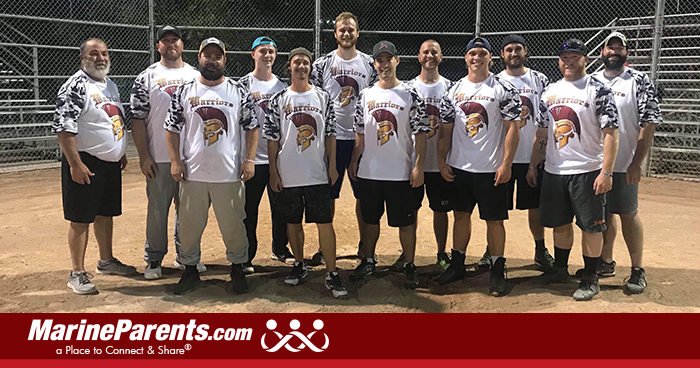 Dear Marine, Recruit, & Poolee Families,
Our Warrior Support Program isn't just reintegration bags and casework. Some of what we do is about bringing combat vets back to the brotherhood and a sense of belonging. We recently were asked to sponsor a softball team that included Military combat veterans. We were happy to oblige. With great honor, we would like to take this opportunity to introduce to you our softball champs "The Warriors." Unknown to us at the time of sponsorship, these guys have stuck together through a hot summer league winning six games, tied for first place they beat the other team to take the championship. The excitement and joy of these young men were immeasurable - some of them veterans, some of them veterans in recovery, and not all Marine Corps.
The weekly games and practices paid off. The drive to hold one another accountable and give them something to look forward to each week showed in their efforts and wins on the field. Some of these guys had never played before joining the team, and it showed the first couple times at-bat; however, as only a Marine could, the Honor, Courage, and Commitment that they embodied shined through! When asked if we would sponsor them for the fall season again, we happily obliged. It's our way of giving back to those who have given so much for our country.
It is only through your support and donations that we were able to sponsor these great guys. And we have to say even if they weren't champs we would happily do it again. We want to thank you for your continued support. Please click the link provided to donate to our WST Outreach program. We want to be able to continue to say yes when asked to help out or Marine Corps Veterans. OOH-RAH!
God Bless and Semper Fi
Lauren