NPR Interview: When A Child Comes Home From War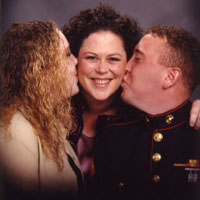 Since 2001, more than 2 million Americans have deployed to Iraq and Afghanistan in support of Operation Iraqi Freedom and Operation Enduring Freedom. For many of these men and women, coming home and reintegrating into "civilian" society can be challenging.
In 2012, MarineParents.com's Founder and Executive Director Tracy Della Vecchia and her son Derrick Jensen, a combat-veteran who served three tours in Iraq with the 3rd Battalion, 4th Marines, joined National Public Radio's Jacki Lyden on "Talk of the Nation" to discuss some of the challenges associated with the reintegration process.
According to Della Vecchia, "In everything Marine Parents has done, there's always been an element of following my own son's career in the Corps, and learning about PTSD is no different than anything else he was doing, including combat and boot camp." In the interview, Derrick talks about his struggles with PTSD and getting back into the civilian world.
While the interview may be tough to listen to at times, Della Vecchia feels that it's important for parents who have sent their sons and daughters into combat to, "...know and understand the feelings and emotions that impact their lives when trying to become a civilian." Indeed, it was this sentiment that led to the creation of the Warrior Support Team (formerly Purple Heart Hero Support) outreach program. By providing support and information to both family members and military personnel recover from the invisible wounds of combat.
Furthermore, Della Vecchia believes that it's vital that family members are aware of what to look for as far as suicide risks and warning signs from combat veterans. By preparing and teaching one another what to look for, military families can help combat the tragically preventable fact that, on average, 22 veterans commit suicide each day.
To listen to the interview in its entirety, please click the "Play" button below.