Marine Corps League Auxiliary Volunteers Send Christmas Stockings to Balboa
---
Seven years ago, members of the Private George Phillips Detachment #1214 Marine Corps League Auxiliary, led by Gail Bickerton, a Marine wife, Marissa Grgurich, a Marine mother, and Marie Kosewicz, a Marine wife and mother, decided to make Christmas stockings for the 3/24 Marines (now the 3/23, as 3/24's colors have since been retired) while the battalion was deployed to Iraq. The response to the stockings was quite positive, and the women received numerous "thank you" cards from Marines who had hung them in their quarters to provide a sense of holiday spirit.
Four years ago, the women learned of our Purple Heart Hero Support (now the Warrior Support Team) dinners at military medical centers on both coasts. They got in touch with our organization and asked if they could partner with us and send stockings to the wounded and recovering warriors at Naval Medical Center San Diego (Balboa). We were excited by the idea and were happy to take them up on the offer.
In the years since, the operation has grown, and this year approximately ten women cut material and sewed 60 stockings with the Marine Corps logo on them, and a further 10 with no design for wounded and recovering service members from other branches.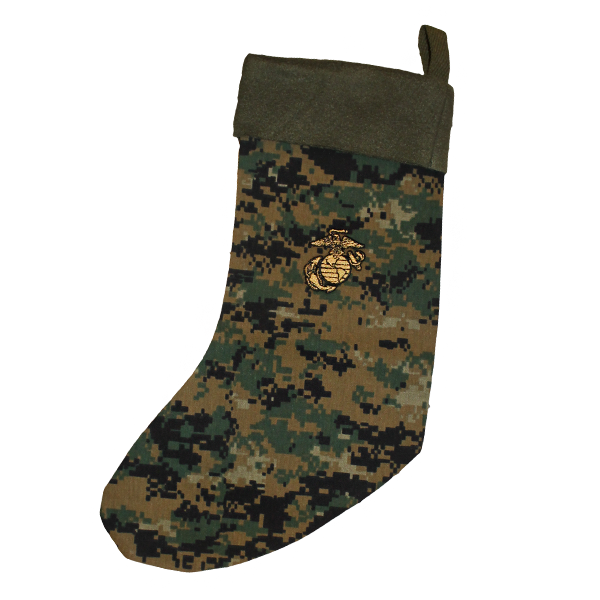 —One of the stockings being sent to wounded and recovering warriors at Balboa this Christmas.
Additionally, the women recently we gave some of their stockings to the Focus Marine Foundation's (a St. Louis-based foundation committed to addressing the needs of post-9/11 veterans and their struggles with Post-traumatic Stress and Traumatic Brain Injury) November class. "Believe it or not, we had a couple of the Marines come up and hug us and say they had no decorations at home and were so happy to get this stocking," said Gail. "Needless to say, we will keep cutting and sewing as long as we have Marines to give them to."
When the stockings arrived at our corporate office in Columbia, Missouri, Marine Parents staff members stuffed the stockings with a variety of "goodies" sent to us by an Eagle Scout, Elijah, from Minnesota. The "goodies" included decks of playing cards, chap stick, chewing gum, books, and various snacks, among other items.
When the stockings arrived in San Diego, our West Coast Warrior Support Team volunteers under the guidance of Warrior Support Team™-West (WST-West) Manager Dale Larson. All 70 of the stockings were handed out, and dinner was served to approximately 80 patients and family members.
As always, a great time was had by all and we'd like to thank everyone involved for their ongoing dedication to supporting our warriors. None of this would be possible without you!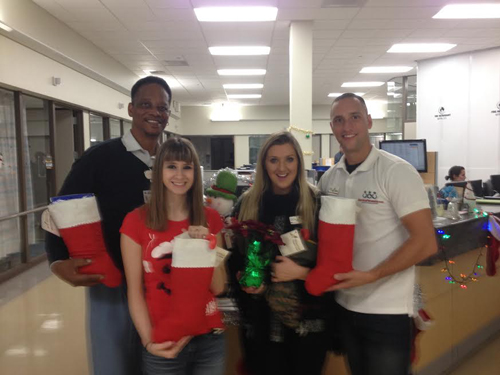 —From left to right, hospital staff member Norris and WST-West volunteers Paige, Corrie, and Logan show off the stockings they helped hand out.