Founder Completes Rosie the Riveter Virtual Run
Tracy Della Vecchia and her Grandson Complete 10K
---
Posted on 3/18/2022
As the founder of MarineParents.com, Tracy has recently embraced fitness and will be participating in every Virtual Run sponsored by MarineParents.com. She's lost 90 pounds in the last year and has now completed more than ten 10Ks. This was a particularly powerful walk for her during Women's History Month and in honor of Rosie the Riveter.
Ethan was a baby in a stroller when we were looking for new office space for Marine Parents. He's grown up with Marine Parents. And he was born to run. But once in a while, he'll slow down to walk with his Grandma. I couldn't be more blessed.
I got to do this 10k with my 13-year-old grandson, Ethan, who is also on Team Marine Parents. I think this was his 22nd medal and he's very proud of that! He's also on his school's track team now. I couldn't be more proud!
We started the walk out my telling Ethan who Rosie the Riveter is; of course it was hard for him to fathom that women didn't work outside the home. But he immediately understood the example every Rosie set for women in the future. He agreed, Rosies are heroes. We talked about how World War II impacted everyone and he talked about the war in Ukraine. Then we talked about his Uncle, my son, who was in the Iraq war, and his Grandpa, my father, who was in the Vietnam war. I'm impressed with how much he knows and how much he cares.
To go from not being able to walk to the end of my culdesac a year ago to spending two hours walking with my Grandson and completing 6.2 miles and listening to him tell me about school and friends...well, it just doesn't get any better than that. Ethan talks...a lot...and I'm so grateful for that. This is probably my 10th time doing a 10k in under a year now. And this was the best 10K experience I've had to date.
He and I and his mom and many others from the office will be walking every Marine Parents VR event this year and many Marine Corps events including the Marathon in October...it will be both my first, and Ethan's first and we're both excited to get it done!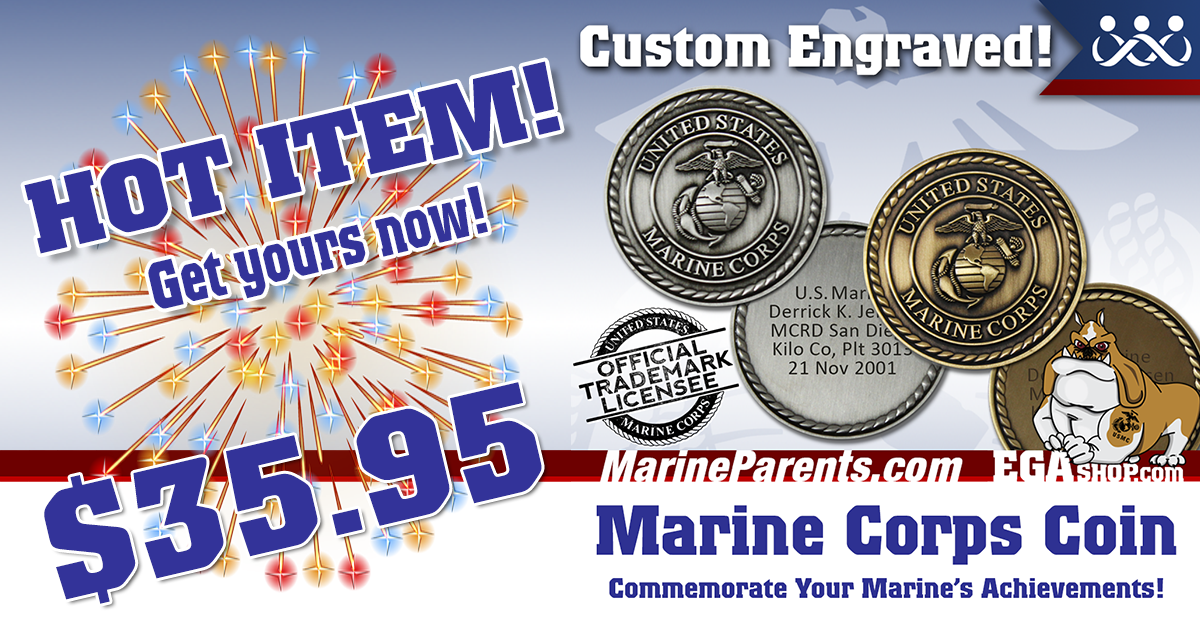 CUSTOM ENGRAVED COIN
Commemorate the achievement and add to your Marine's collection today!